Summer Studio
Aug 30, 2018
This summer my "studio" has been poolside at my brother's house in Carlsbad. It's a sharp contrast to last summer's Texas "studio" (no armadillos here, for instance).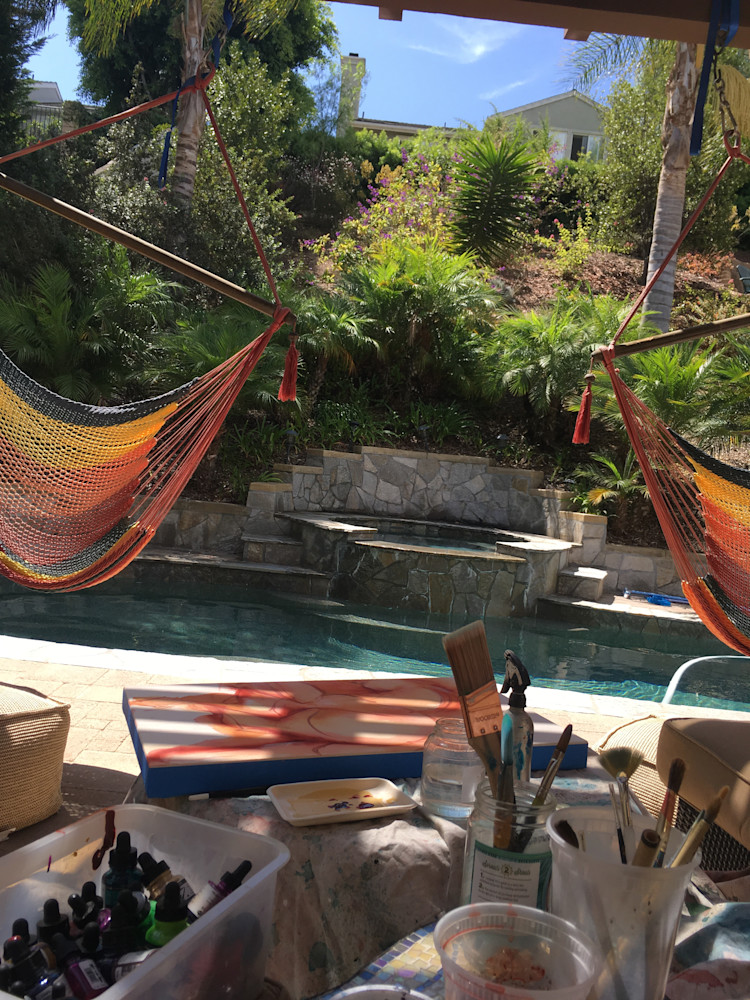 San Diego county is as technicolor as Texas hill country, in a slightly different palette but with the same bottomless blue sky, and it's hot. Otherwise the experience has been entirely different.
Here I'm painting by the pool at the bottom of a steep hillside planted in palm and citrus trees, flowering shrubs and ground-cover roses. A pergola stripes everything with sunlight and the air smells sweet, something between plumeria and kids' toothpaste.
My sister-in-law raises Monarch butterflies, so at any given daytime moment there are dozens of butterflies on the hillside and in the yard, also hummingbirds and mockingbirds and, earlier in the season, huge psycho Japanese beetles whizzing through the air.
And of course instead of the overwhelming isolation of the ranch house (just me and Josephine for days on end) this house is full of people and pets, surrounded by close neighbors (who, I swear, coordinate so there's a gardener at one of their houses every day of the week). It only takes five minutes to drive to the grocery store.
The space has inspired me to work mostly in ink and charcoal on a much smaller scale (than last year's 5' x 3' canvases), a fun experiment in drawing and painting horses and birds.
Here's last summer's blog for stories about Texas.